AMSTERDAM FASHION WEEK 2023
In fashion, norms of what's considered formal wear, what's informal, what's made for men, what's made for women and even what size you should be wearing keeps changing over the years and seasons. In our 'Discomfort' collection we will disrupt this whole way of thinking by showing that anyone can wear anything, anywhere, any time.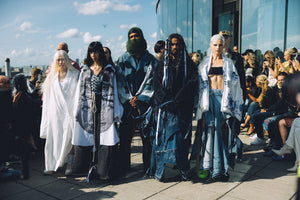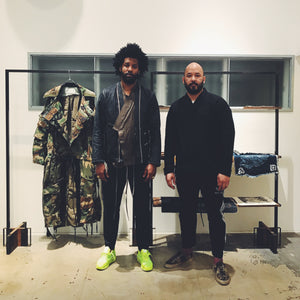 Atelier Reservé
ABOUT THE BRAND/ 
Atelier Reservé / RESERVEBOYS
The two 'Reserveboys' behind the brand, visual artist Alljan Moehamad & designer Deyrinio Fraenk, are focused on bringing old stock fabrics, used materials and vintage garments back to life. 

Atelier Reservé follows its own nonconforming path and invites its wearers to do the same.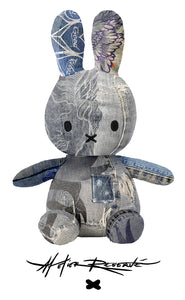 RESERVEBOYS X MIFFY
In conjunction with the Chinese Zodiac Year of the Rabbit, Amsterdam-based niche brand Atelier Reservé and plushy-maker Bon Ton Toys teamed up for a collection of one-of-a-kind Miffy (Nijntje) plushies. Together with Bon Ton Toys and Mercis (the license holder of Miffy), Atelier Reservé has now given Miffy a full vintage denim look. 
 A limited amount of handmade 50cm tall Miffy plushies has been created using old denim stock fabric from the Amsterdam-based studio. 
 Following a carefully curated denim selection process in Naples, Paris and Amsterdam to source the finest vintage available, each panel is hand-cut and screenpinted with the distinctive Atelier Reservé artworks by the team in Amsterdam. The ready cut panels are then shipped to Portugal, after which the iconic facial expression of Miffy is embroidered and the plushies are sewed, stuffed and stitched.
The unique Miffy plushies will be available in two versions: a 50cm vintage blue Miffy and a 50cm vintage black Miffy tranformed to a one-strap bag for wearability.
available 01.10.2023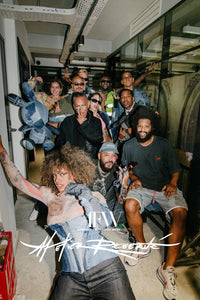 ATELIER RESERVÉ X AFW 2022
Amsterdam, the 2nd of sept 2022 - Atelier Reservé made its fashion show debut at the latest edition of Amsterdam Fashion Week 2022 sponsored by BUDx with a combination of fashion, performance art and a special musical appearance by Young Sor backed up by Dj Patrick Mordi. A seat at the table in the middle of the space filled with intriguing and exceptional characters, also called 'Friends Of The Brand'. From a seasoned artist musician such as Faberyayo, to the well-known photographer Andy Tan, who all represent this ever-evolving brand.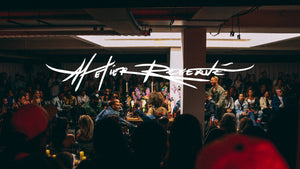 Levi's® by Atelier Reservé 2022 "Perfectly imperfect"
Since the start of their brand in 2016, visual artist Alljan Moehamad and designer Deyrinio Fraenk have been using old stock and vintage Levi's® to create new garments in their distinctive style, with Japanese references and tattoo art-style typography. For this Handmade collection, the design team playfully added patches of existing and deadstock fabrics to white 501s®, stonewashed trucker jackets, worker jackets and classic white tees. They also deliberately placed paint spots on the garments, which is a nod to the handmade production process used in the clothing industry. "People often don't realize that all clothing is still made by humans," Fraenk explains. "It's not a matter of just pressing a button on a machine. Errors occur and that's okay; the imperfections make it interesting."
The Levi's® and Atelier Reservé Handmade collection is available online on levi.com and endclothing.com.